There is the prejudice that Icelanders in loneliness on their island after months of darkness deal with absurd things. The sound images produced by the musicians often carry powerful natural backdrops and mystical mythical creatures within them. But you can discover many pearls like Sunna Gunnlaugs. The Jazz pianist, composer and festival director lived in New York for a long time and returned to her homeland a few years ago. The 48-year-old lives with her husband, the US drummer Scott McLemore, in Reykjavik. Interview by Oliver Schulz.
Icelanders are the happiest people in Europe. This is the conclusion of a study by the "World Database of Happiness". But six months a year it's dark and cold there. How come the Icelanders think they're so happy themselves?
Maybe we just don't know any better. ;) Temperatures are actually quite mild so it is not very cold and the darkness only lasts 3-4 months. During the dark months you can really make the most of it by putting up decorative lights, lighting candles, cuddle under a blanket and enjoy together time with family. Summertime is of course wonderful with 24 hour daylight and you may feel like you have the energy to stay awake all summer.
Iceland also has so many wonderful jazz musicians. Can they concentrate better on their music in dark clubnights?
It is true that creative industries are buzzing in Iceland whether it is music, art or design we have a lot of talent here. I find myself inspired by the scenery. I feel energy from the mountains and the ocean. It wasn't that long ago that people in Iceland had to make everything themselves so maybe it is still in our genes to be creative.
You lived in New York for many years. You travel a lot on tours. What does your home country Iceland means to you? 
Home is home. For a while I thought I would never leave New York but as one gets older priorities change. I have children that enjoy the freedom of growing up in Iceland, I have a much better quality of life here than in New York and there is definitely more support for the arts. I still cherish the time I spent in New York and believe it is a great place for a young growing artist to be.
Swedish trombone player Nils Landgren said: Whoever chooses jazz as a profession is faced with a life of uncertainty, artistically and financially. Is he right?
I think so although you could say that about many professions. Today I think it is not enough to be a good musician you also have to be very resourceful and creative in making opportunities for yourself. This is something that should be addressed in music schools, how to make a living from your art. The good side is that you probably have no interest in retiring. 
What does a festival-platform like the Jazzahead in Bremen means to you? 
I have been going to Jazzahead for many years now. I was totally overwhelmed the first time I attended but then it was rewarding to meet people that I had been in contact with through email when living in New York. It can be a bit difficult to maintain your presence on the scene when you live on an island so now I find it important to go there to maintain relations with bookers, critics and other musicians and of course see old friends. I usually feel quite inspired after the conference and eager to make something happen. 
This year I have a showcase for the first time. My trio did play at Sendesaal some years ago during club night but this year we are at the fabulous Schlachthof. I love that venue! Of course I am hoping that this showcase will open up more doors for us and give us more opportunities to play our music.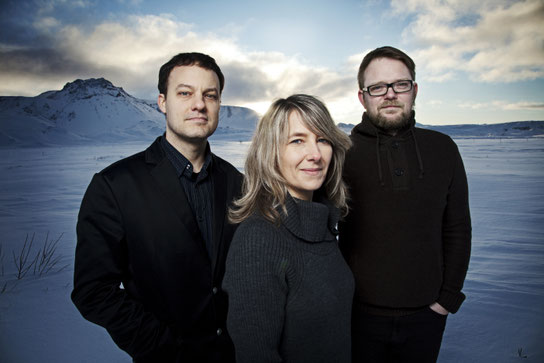 Women are underrepresented in jazz on stage as well as in the audience. Does a quota help female jazz musicians, for example at festivals?
Well, as James Brown said "It's a man's world." There have always been women trying to break onto the scene but social, economic, political machinery didn't allow them. So it has been man's music maybe since it stopped being popular music. I found it interesting when I started a concert series here in Iceland focusing on women in jazz that majority of the audience members where women. Maybe women coming out to support women, maybe feeling more comfortable in a crowd with other women, don't know but the important part is that putting more women on stage was attracting more women in the audience. It is also important to make women in jazz visible so that the younger generations can see them selves in someone on the scene and feel that this scene is for them. That is why the quotas are important now. We all need to be aware of this and make sure that we are speeding to a target where it is normal that half of the line-up at a festival are women and mixed gender bands are the norm. Then we get the whole story and make it a better scene for everyone.
Are women stronger together, like your collaboration with pianist Julia Hülsmann shows?
Ideally it shouldn't be about gender at all but I am always excited to work with other women. There is a different chemistry in an all female company and also a different chemistry in gender balanced company rather then when you are the only girl in a group of men. I think there are still some guys that feel threatened by strong women although hopefully that is slowly changing. Finding balance, supporting each other, men and women, all colors and background that should be the goal. Be inspired by each other and make wonderful music of all kinds.
Interview by oli/anBeat.com
Photos by Hörður Sveinsson